What is a Festival?
Since 1950, the Billy Graham Evangelistic Association (BGEA) has been organizing major evangelistic events around the world with one goal: to proclaim the love of God to people. Today, the Festivals of Hope continue this life-changing mission.
The Festival is not just a single evangelistic event. It is a comprehensive process with a lot of prayer, evangelism training, Gospel proclamation, and follow-up. Each Festival begins and ends with you, the local church.
6 ways you and your church can benefit from the Festival of Hope:
1
PRAYER
Since the Billy Graham Evangelistic Association was founded, prayer has laid the foundation for ministry. Prayer helps prepare others to hear the Gospel and is a tangible way for local believers to rely on God's guidance throughout the Festival.
2
CHRISTIAN LIFE AND WITNESS COURSE
Many Christians have never shared their faith because they're afraid or don't know how. The Christian Life and Witness Course is designed to teach Christians how to share the Gospel effectively and practically. It also trains believers how to counsel others who come forward at the Festival.
3
WITNESSING ACTION PLAN
Your church can use the "I am Andrew" plan to identify family and friends who are in need of Jesus Christ. Church members commit to pray for them, nurture those relationships, and invite them to the Festival to hear the Good News.
4
SPIRITUAL RENEWAL
Ahead of the Festival, there are various opportunities for churches to come together for worship, prayer, and community outreach. Engaging with each other while focusing on God can bring spiritual renewal to the body of Christ.
5
CHRISTIAN UNITY
The church is never stronger than when it is united in the common goal of proclaiming the Gospel of Jesus Christ. Lasting relationships are formed during preparation for the Festival and congregations are strengthened while working together.
6
NEW CHRISTIANS IN LOCAL CHURCHES
The Festival process is designed to lead new believers to local churches where they can grow spiritually. New Christians are an asset to the life of the church and a testimony of Christ's command to make disciples of all nations.
Franklin Graham
Rev. Franklin Graham has devoted his life to sharing the Gospel of Jesus Christ and meeting the needs of suffering people around the world. Franklin serves as president and CEO of the Billy Graham Evangelistic Association (BGEA). His first evangelistic event with the ministry was held in 1989, and since then, he has continued to spread the Good News through hundreds of outreaches around the world.
Franklin is continuing the lifelong work of his father, Dr. Billy Graham, who was honored to preach in Germany 15 times between 1955 and 1993, including two stops in Essen and two in Dortmund. Franklin is returning to Essen 30 years after his father's final historic event in the city—the first "Pro-Christ" Crusade in Essen. The remarkable outreach was carried by satellite to nearly 1,400 locations across Europe, and Billy Graham later passed it on to his friend, evangelist Ulrich Parzany. Just like his father, Franklin is working with churches across the region that are sharing the message that God loves the people of Germany and has a purpose for their lives. This is the same, simple Gospel message that Franklin is also looking forward to sharing in Mexico City, Mexico; Ho Chi Minh City, Vietnam; the United States; Krakow, Poland; the United Kingdom; and Seoul, South Korea; in the months leading up to his visit to Germany.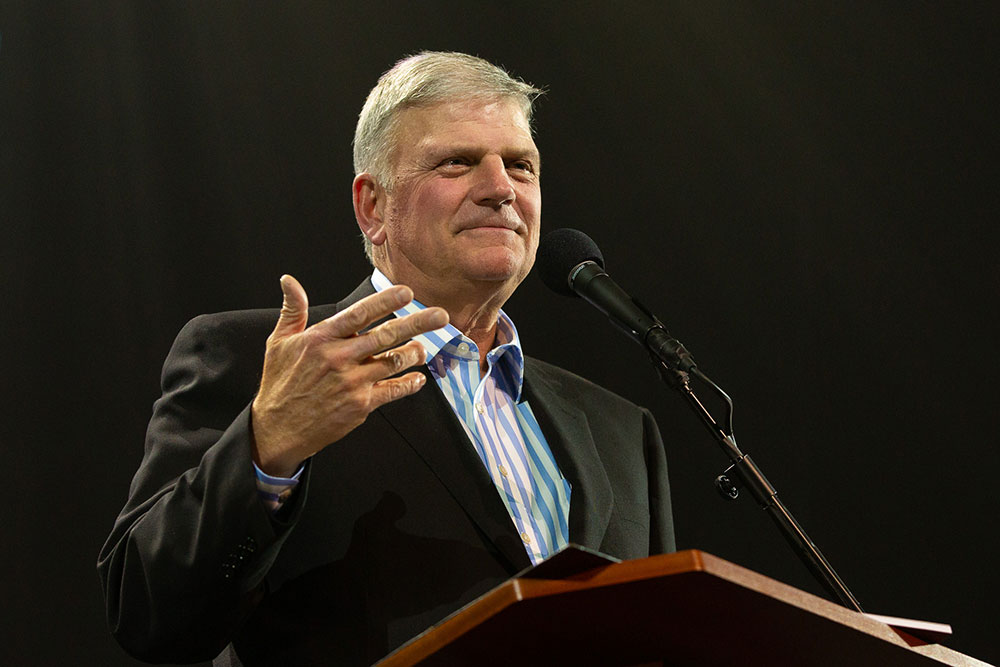 Through his work with BGEA, Franklin has been instrumental in helping people affected by natural or man-made disasters, such as the crisis in Ukraine. Since March 2022, BGEA has trained more than 200 Ukrainian chaplains who have been comforting and praying with people who are affected by the conflict.
In addition to serving as president and CEO of the Billy Graham Evangelistic Association, Franklin also leads the Christian aid organization Samaritan's Purse, which has an office in Berlin. Samaritan's Purse helps meet the needs of refugees, victims of war and natural disasters, the sick, the poor, and the suffering in more than 100 countries around the world. In Germany, the organization deployed nearly 10,000 volunteers who helped more than 1,400 families recover from the devastating flooding in the Ahr Valley in July 2021. Samaritan's Purse also partnered with dozens of churches to give backpacks filled with hygiene items, a blanket, a portable charger, and a Bible in Ukrainian to more than 5,200 Ukrainian refugees. In addition to these distributions, Samaritan's Purse and BGEA are supporting many churches and Christian organizations that have helped more than 250,000 displaced Ukrainian people in neighboring countries and German-speaking countries.
Samaritan's Purse has also responded to the Ebola outbreak in West Africa, the wars in Iraq and South Sudan, and disasters across the globe ranging from catastrophic hurricanes to devastating wildfires to massive earthquakes. Samaritan's Purse recently deployed emergency field hospitals to COVID-19 hotspots during the pandemic, treating more than 950 coronavirus patients in northern Italy, New York City, the Bahamas, North Carolina, southern California, and Mississippi. One of the projects of Samaritan's Purse, Operation Christmas Child, is the world's largest Christmas project of its kind. This past season, Operation Christmas Child collected more than 10.5 million gift-filled shoeboxes. These gifts are delivered to children around the world, including many who are suffering from war, disease, poverty, and disaster. For many boys and girls, the shoeboxes are the first gift they have ever received.
I want to call God's people to prayer and share the hope found only in Jesus Christ.Franklin Graham